As a marketer, I know how and when I am being sold. One of the ways most of us sell every day is through email. We receive so many emails that Google, one of the largest providers, has given us three mailboxes to sort through – and it's still not enough!
However, this is what I see in email: there are good ones, there are bad ones, and most of the emails I receive are ugly. And not just your average freak, we're talking about Clint Eastwood watching you in an ugly three-way duel. Yes this is bad.
What follows is a summary − No Looking down – some real marketing emails I've received over the past few months. I hope these examples give you an idea of ​​not only how to send better messages, but also the reasons why email marketing sometimes fails.
**Duplicates original soundtrack by Ennio Morricone**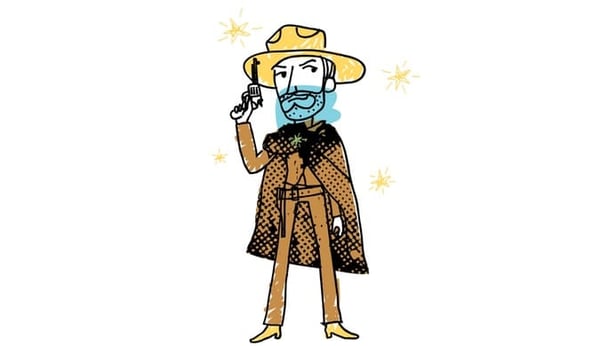 Good
Let's start with the good, because the goal here is to help you improve your email marketing.
We've been big fans of BuzzSumo for a long time and use their product a lot to select and rate content. During my personal experience as a subscriber, BuzzSumo's email touchpoints with me have been perfect. They sent account statements and got in touch when they did major updates to their product (which didn't happen often), but other than that, any other emails I got from them were the alerts I asked for. BuzzSumo stayed in touch, but they didn't pester me to renew my subscription or send me emails that weren't related to my subscription level. Every email they sent me made sense.
At some point, I realized that I didn't have to pay for BuzzSumo, so I canceled my subscription (it was a simple and painless process, by the way – a bit of transparency goes a long way!).
A couple of weeks after I canceled my subscription, I received the following email from James, co-founder of BuzzSumo:

Is this an automatic message, which it probably is, or something that actually came from James personally, is Really good strategy. Instead of pissing me off that I can't unsubscribe easily, BuzzSumo let me go and gave me some space. Then, after a short break, they return and offer me something.
Like I said, I love BuzzSumo. I've been paying for the product for over a year and not only do they know it, they know I won't turn down a trial. I said yes and they gave me access to the Pro version of their product again.
BuzzSumo has nothing to lose. The worst thing that can happen is that I use the product for two weeks and then switch back to my free account. However, if I realize that I really can't live without a paid subscription and sign up again, BuzzSumo will win back a customer with one short email and a carrot freebie.
It's simple and it's brilliant.
Badly
This is a more general question, but when it comes to email marketing, the big downside is that we get so much mail. I just took a quick look at the Promotions tab in my personal Gmail account and I already have 17 emails today (and the number keeps growing). It says in my mailbox that I looked at one of them and I think it was an accident.
Seriously, how can I read 17 emails after I finish my work day and all the email associated with it? This is madness! Yet here I am telling you that email marketing is an effective tactic.
What gives?
The reality is that email is a great communication channel. It's getting harder to a) cut through the noise or b) block out the noise, but it's no less convenient for both business and personal tasks. Either way, there should be less email.
CAN-SPAM and CASL—strong anti-spam laws aimed at businesses and marketers—helped a lot. But we, as marketers, also need to take matters into our own hands when creating and sending marketing messages.
This brings me to my next point…
Ugly
I'm not sure I'm calm enough to write about it, but here it is.
In my free time, I play fantasy hockey every day. For those unfamiliar, daily fantasy sports are one-day competitions where users select real-life athletes with a salary cap and prizes are awarded based on the number of points scored by their chosen lineups. If you've heard of companies like DraftKings and FanDuel, then you know what I'm talking about.
I signed up for a trial of a tool that helps users pick the best teams (because winning is fun!). After signing up for the trial, I was literally bombarded with emails:

There are a few very, very wrong things in this screenshot, but the first and most obvious one is too many emails, period. Eight emails in eight days, and on some days there were two messages. If you don't send real gifts on each of the 12 days of Christmas, this never good to send as many emails to your target audience.
The second big taboo in this thread of emails is the subject line. Did I mention I play daily fantasy hockey, right? These emails are either about the NBA or the NFL; I don't play basketball or fantasy football, which means I don't need those emails.
These guys know – or should make it a priority to know – how customers use their tool. But they don't, and since there's no attempt to segment their lists and send meaningful messages, I've already unsubscribed and won't be signing up for the paid version of their product.
Bad email marketing literally prevented these guys from getting a new client after they successfully lured me into a free trial. How ugly is that?
---
Email is a part of most of our daily lives and it's not going anywhere. Spam messages and other emails that we don't read are part of the daily battle we have with our inboxes. The key to successful email marketing is the right mix of timing, frequency, and message that makes sense.
If you would like to contact us about improving your email marketing or launching a new campaign, drop us a line – we'd love to help!